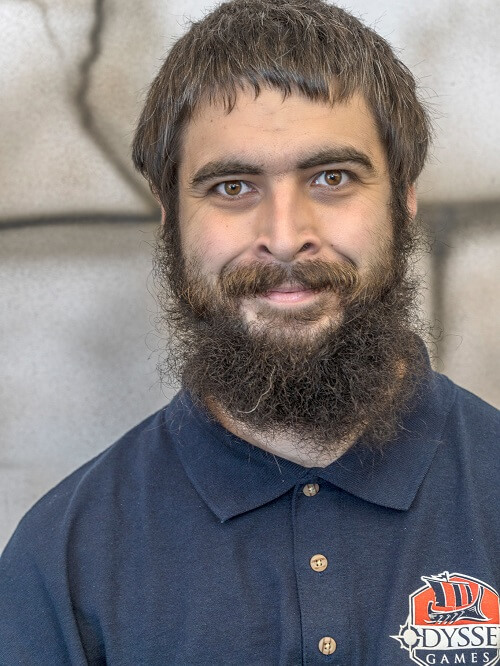 We want to introduce another amazing Odyssey Games team member
September 7, 2020
Hello Odyssey Family,
We want to introduce another SUPER AWESOME TEAM MEMBER: Evan Bridges! Evan returns to us and is a familiar face to many because he was on staff with Game Empire. Evan is one of our board game experts. Let's meet Evan!
Interviewer (Richard): tell us about yourself Evan:
Evan: I moved to California from Texas to pursue a career in screenwriting and introduce as many casual gamers as possible to the golden age of board gaming.
Int: where did you go to school?
E: I have a bachelor's degree in Science in Radio, TV, Film, from The University of Texas at Austin.
Interviewer: why is your nickname "the Board Game Whisperer?"
Evan: (laugh) it comes from the "Dog Whisperer" with Cesar Millan ?. You see, I absolutely love board games and I have a way of whispering suggestions in people's ears.
Int: Describe two great games that you got last year?
E: Barrage and Quack of Quedlinburg.
Int: Can you name two new games that you are looking forward to playing in 2020?
E: 18 Chesapeake and Santa Monica
Int: There's a board game called "Santa Monica" coming out? I grew up in Santa Monica! ?
E: Yes, its a card drafting game about building up the best neighborhood- it has a fantastic theme.
Int: Can you tell us a favorite memory you have about working at Game Empire?
E: I have fond memories of speaking with Chuck right before he went to visit my home state of Texas. It was a blast to work with him and I learned a lot about the gaming industry from him.
Int: What other hobbies do you have?
E:I love sports (particularly Texas sports)?, professional League of Legends, and locating the lost colony of Roanoke ?
Int: Any final comments you want to say to our gaming community?
E: I am so looking forward to seeing everyone soon! Please feel free to come to me for suggestions, recommendations, and "whispers" about the latest games.
I will also trade board games for writer's PA gigs ?
Hook 'em! ~ Evan